The purpose of this blog post is to describe the implementation of a commercial website (a rural hotel's website) using WordPress online at www.montepuravida.com.pt. It is not a step-by-step tutorial but just a general description of what is involved.
This assignment was a legacy work done by my former company. It also suited the purpose for me to tryout the WordPress as a site development platform. Another purpose on using WordPress was to give the client a website that could be authored and managed by others, in the future.
The site uses a lot of plugins and the Underscores ("_s") theme as the base theme. Since the website already existed but was implemented in another platform, the web design implementation was just to mimic the existing one. But no CSS or HTML was copied from the existing site, since it was not in HTML5/CSS3.
Existing site front page: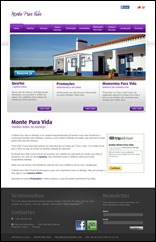 Plan
The first thing to do was to make a text document depicting the web site:
Hosting: domains, locales, emails
Common layout
Pages: name, URLs, locales, content, migration notes
Forms: fields, email addresses, Google Web Analytics event info
This document was delivered to the client so he could review the migration notes, mainly.
[…]


Read the full article.